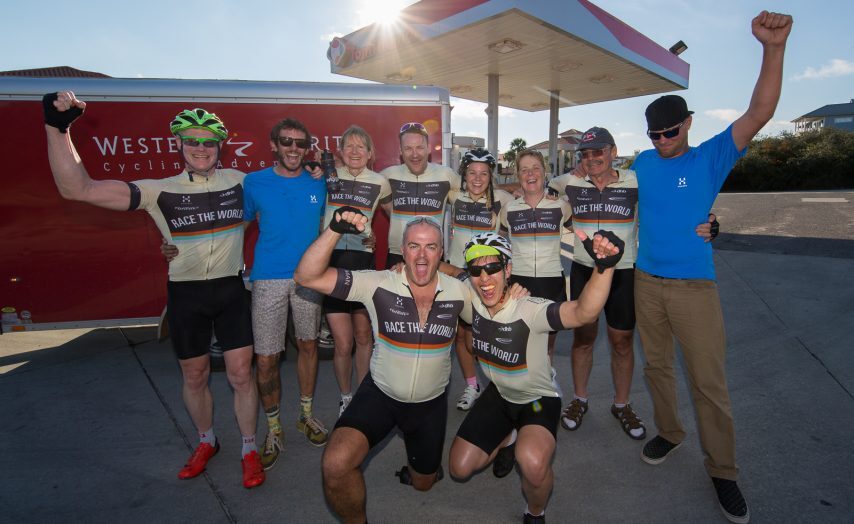 Race The World is a coast to coast cycling race from LA to Miami. Starting on 1st November 2015, two teams covered thousands of kilometres over 14 days and travelling through seven states. A journey unfolded which lay witness to the transformation of sixteen individuals into close-knit, high performing teams.
We asked Sophie Radcliffe, one of the two team captains and a K2 ambassador, to share her observations about what it was like to create and lead a team to deliver an exceptional performance in a unique and demanding race.

Performing in demanding conditions
From day one I was aware of the pressure cooker situation. Each member of both teams invested a huge amount emotionally, physically and financially in Race The World.
As Team Captain for Team Deman, it was my job to manage personal expectations and do the best I could to ensure every member of my team walked away from this experience having delivered something they didn't know they had whilst also having fun and creating memories they will cherish forever.
Developing strength of performance, mind and spirit
Team Deman developed the most incredible team spirit I have ever laid witness to. At the heart of our team was love, support, happiness and a desire to exceed personal limitations that fuelled our performance. We wanted to win, but above all, the team was there to maximise enjoyment from the experience.
When we lost, we started the next day with renewed, stronger spirit because winning was the bonus, what we experienced each day already felt like winning to us. When we won, the feeling was phenomenal. We fought with everything we had for all our wins and the stages we lost, knowing we had done everything we could to achieve our best performance was all we could ask for from ourselves and each other.
Keeping calm under pressure
No matter how tight a strategy is, something will always arise to conflict with the strategy and require immediate changes to rise to the challenge. We had punctures, unexpected off-road sections, extreme heat, high mountain passes, torrential rain, fatigue and ferocious headwinds to contend with. Keeping calm in the pressure cooker was all part of the adventure – I didn't get it right all the time but I loved being able to react immediately to situations and make decisions that had an instant impact.
Making the decision to be exceptional
Everyone who took part in Race The World achieved something exceptional by making the decision to be there in the first place. Every minute of every day we would arrive at the same cross-roads; to make the decision to deliver something exceptional or take the easy route. To pull at the front or sit in the middle of the peloton. To let any given situation stress us out, or to smile, breathe and move forward.
Breaking through limits
We all place limits on ourselves, on our ability of what we conceive to be possible. The reason I love endurance challenges like Race The World is because it provides an opportunity to challenge set limits, to break through and unleash the fire within, enabling ordinary people to achieve something extraordinary and find something they didn't know they had.
Race The World was a once in a lifetime opportunity to experience how decision making, team work, mindset, self-belief, and passion for cycling, can combine to create an arena for delivering high performance and a life-changing experience on multiple levels.
×